Blog Tour: Fleur McDonald talks about Torn Heart Syndrome
November 4, 2016 | Sapphire Falls by Fleur McDonald is published by Allen & Unwin, RRP $29.99, available now.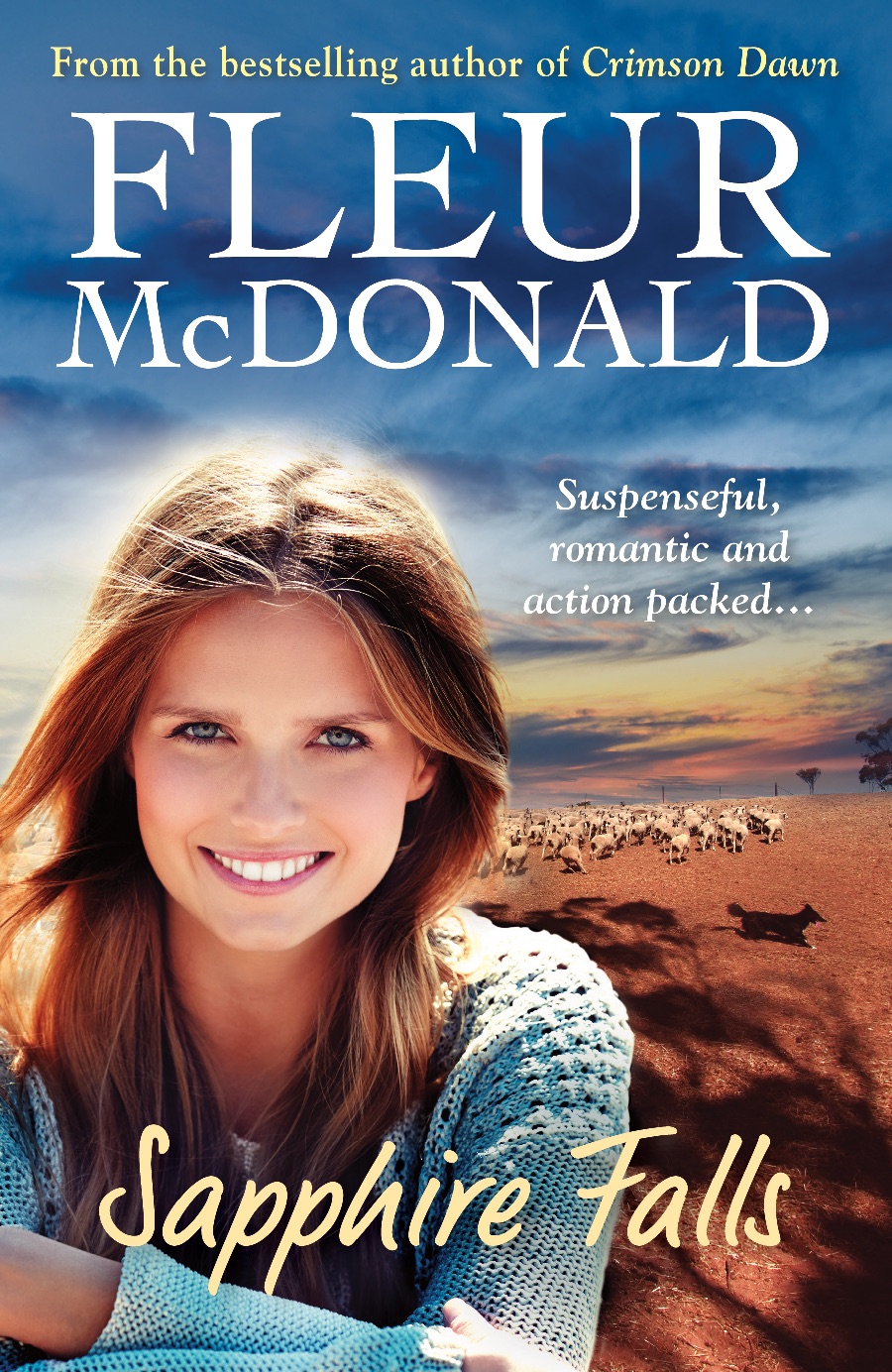 Today I'm thrilled to welcome Fleur McDonald to LOVEthatBOOK as our guest. Fleur's latest book, SAPPHIRE FALLS is out now. It is a suspenseful, pacy and action packed novel that is also a testament to the resilience of women who live and work in the harsh Australian landscape. Fleur's wonderful guest post highlights the struggle that many women go through as they shift gears between career, family and relationships and often, simultaneous combinations of these three.

Blurb – Sapphire Falls
Fiona Forrest is devastated when her husband Charlie commits suicide after the accidental shooting of his mate, Eddie. Though Fiona decides to keep farming their successful property, rumours that she intends to sell keep circulating.
When Detective Dave Burrows arrives to sign off on the investigation into Eddie's death, his suspicions are aroused by some strange anomalies at the scene. As Dave becomes increasingly convinced that something sinister is going on, Fiona finds herself dealing with a series of disasters on the farm…
By the bestselling author of Crimson Dawn, this suspenseful novel about a woman fighting to preserve her husband's dream and a detective determined to uncover the truth will keep you guessing till the very last page.
---
GUEST POST
Torn Heart Syndrome by Fleur McDonald
There always seems to be issues as a mother when you work and try and raise kids at the same time. I call it Torn Heart Syndrome.
When I lived on the farm, one of the questions I was always asked was: 'How do you find the time?' Now I'm living in Esperance and write full time, I'm still asked the same question, which I find incredibly amusing! Life is a lot less busy when all I have to do is write and raise kids, rather than farm, care for my ill mother-in-law, write and raise kids. Obviously not necessarily in that order!
I recently attended and spoke at a leadership conference in Kalgoorlie. It was for women, run by women and all of the speakers were women.  One of the best speakers at the leadership conference was a lady named Dr. Alicia Verbeeten. She's a scientist.
Dr Verbeeten has many skills, being a work-from-home-mum and running Minerex Petrographic Services, which provides a "full-service sample preparation lab" for exploration and mining industries both local and world-wide. She is only one of THREE women in Australia, who offers this service and it's just one of the businesses she's involved in.
The first thing she said (and I'm going from memory here, so won't be word-for-word) was:
'Because I chose to stay at home after the birth of my child, does that make me a failure in my chosen profession?'
Well, obviously not. Because she's not only a respected, well-renowned business owner and scientist, she's a hand-on mum and, with the usual ups and downs, she's successful at both. But as I listened I heard Dr Verbeeten's experience echoed over and over. I found we all have the same problems, loves, wants and needs.
We start our working life in the profession we've chosen and we want to be successful. Most often we are. Then our life changes – we marry and (usually) have a family. This is where things get interesting.
We want and need to be good at our chosen career, and we want and need to be with our children, and feel guilty when we spend time away from either one. It's a complex and very real problem, and it doesn't help that I feel the mentality of society is (mostly) still, women should raise our children and men should be the bread winners.
As a writer, I'm fortunate to be able to work from home. I tailor my working hours around the kids and their after-school activities, but I am away from home a lot. That's when my guilt kicks in. That's when I feel that little tear.
From what I can see, finding the right balance for each individual family can only be a 'suck it and see' type of process. My character Fiona, for example, shrugs off this syndrome, in Sapphire Falls, with every intention of raising her child while she works the farm.  Fiona may be fictional, but there are so many women out there who make this choice and make it work, even if their heart feels a little torn.
ABOUT FLEUR
Fleur McDonald has lived and worked on farms for much of her life. After growing up in the small town of Orroroo in South Australia, she went jillarooing, and co-owned an 8000-acre property in regional Western Australia.
Fleur likes to write about strong women overcoming adversity, drawing inspiration from her own experiences in rural Australia. She is the best-selling author of Red Dust, Blue Skies, Purple Roads, Silver Clouds, Crimson Dawn, Emerald Springs and Indigo Storm. Fleur lives in Esperance, WA with her partner, two children and two dogs who keep her company while she writes.
Sapphire Falls by Fleur McDonald is published by Allen & Unwin, RRP $29.99, available now.
FOLLOW FLEUR Mc DONALD
Twitter: @fleurmcdonald
Facebook:  https://www.facebook.com/FleurMcDonaldAuthor
Instagram: https://www.instagram.com/fleurmcdonald/
PURCHASE SAPPHIRE FALLS
E-STORE LINKS
 Continue following Fleur on her blog tour. Dates listed below.