Interview: Dianne Maguire on Writing and Real Life Inspiration
August 15, 2017 | Things We Cannot See is published by Harper Collins. Ebook available now, RRP $5.99.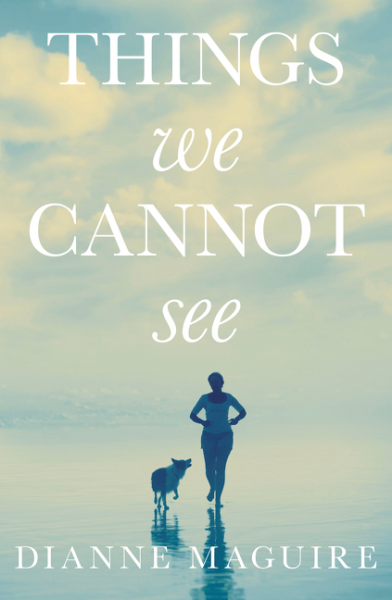 Today I am excited to have Dianne Maguire on the blog, to talk about her wonderful second novel THINGS WE CANNOT SEE.
You can read my review of Dianne's debut novel, WHAT MATTERS MOST, here. 
Dianne Maguire is a social worker turned novelist with over 20 years' experience in child welfare and protection. She has won the Pauline Walsh Prize in the Eastwood/Hills Regional Annual Literary Awards and in 2010 she co-wrote a collection of non-fiction short stories, 'It's About Time', for children's charity 'Time for Kids'. Her articles have been published in state and national newspapers and magazines. Although Dianne lives in Adelaide with her husband Jerome, she does most of her writing on the Fleurieu Peninsula.
---
Welcome! Thanks for stopping by to talk about your second novel, THINGS WE CANNOT SEE.
It's my pleasure Melissa.  I enjoy reading your interviews, so I'm excited to be talking with you.
I always learn so much from the authors who visit! Let's get started, shall we… I've heard you say that life and experience has an impact on your writing. Can you tell us a little bit about your job and how it influences your novels?
HarperCollins published my first book, 'What Matters Most' in 2015, so that's when I stopped practising social work, but my passion persists. Every day the media bombards us with yet another paedophile or another family unable or unwilling to care for children. But the media does not talk about the 'soft' stuff, the human details of child maltreatment; the heart-breaking vulnerability of some children and the astonishing resilience of others. The media does not tell parents how to protect their children without the need for alarm.
The media always talks about the train-wrecks but it rarely reassures us about the heartening progress of an army of professionals and volunteers fiercely dedicated to keeping our children safe. And the media gives no insight into the determined strive of the human spirit to heal itself.  These are the stories we need to know about if we are going to take heart.
After thirty years as a social worker for hundreds of children, often during their most tragic and triumphant times, I know that there is good news along with the bad, so these are the stories I enjoy telling.
With all that material stories must be jumping at you all the time! How do you choose between cases and how much of the stories are 'real' vs. inspiration?
Yes, you're spot on. My mind and heart billow with stories. But they are not confined to child protection. They are about a range of ordinary people dealing with complex situations . . .  fictionalised versions of stories garnered through my work but also drawn from the lives and caustic romances of friends and affiliates.  They are funny and tragic, often confronting and usually heart rending and they invariably raise questions demanding of answers.
Having said that, there are a handful of stories from my work that remain etched in my mind years later. 'What Matters Most' for example, was the story I simply had to write because the young woman portrayed as Rachel Hooper was one of the most lion-hearted people I have met.
'Things We Cannot See,' was inspired by several teens who truly believed their abusers loved them and who I've synthesised to create Alex Holt's character. Of course, interwoven with Rachel's and Alex's stories are those of Mia and Laura – adult woman also betrayed by someone they love.
All my characters and their stories are inspired by real people and true events. . . I could not dream up such things. . . but in all my books I alter and blend details to ensure not one of these people recognises their stories in mine.
OK, hit us with the feared 'elevator pitch' for THINGS WE CANNOT SEE.
The compelling story of a dedicated cop who discovers her forever partner's secret life . . . and a fifteen-year-old girl who's learning the difference between sex and love.
The beginning was creepy! All my radars were up when Alex was walking home. What happened became a catalyst for events that followed, can you tell us a little about that?
One morning I sat down at my computer still in my PJ's and that chapter simply poured out of me. I wanted to build intrigue about Alex's circumstances at home and I wanted Alex and Laura to come together early in the story. I didn't know what was going to happen to Alex when she walked home that night – I just knew it would be bad. It turned out to be the perfect vehicle for the rest of the story. But it was not without great sacrifice on my part.. Late one night I actually walked through shadowy streets and a dark alley just to capture the sheer terror of it. So, I'm thrilled to learn it set your radars humming.
How essential was Alex's amnesia to the novel?
The reveal is an important part of my stories. Had Alex been lucid the story would not have been as compelling. I'm avoiding details for fear of spoilers here, but Roger's role for example would not have been anywhere near as intriguing had Alex retained her memory. In any event, Post-Traumatic Stress Syndrome is a reality for some kids facing Alex's life challenges, so her amnesia crept up on me as a natural part of her story. 
I was reminded a little of To Kill A Mockingbird by Harper Lee as I read about Roger, the neighbour across the road. His story seemed a good example of the kind of judgement people can make about others without really knowing much about them. What are your thoughts on Roger?
Oh Mel. You've made my day!
YAY!
Roger was definitely my "Boo" Radley and his neighbour Mrs Quarterman a metaphor for the judgemental community. Roger's character was inspired by a chap who walks our streets and who frightened me a little until I started saying 'hello' to him. He's a man of few words and he never smiles back at me. But now he knows me, he always mutters return greetings. He's my own personal 'Boo' who taught me much, so I wrote him into my book as Roger.
The thing is, Autism Spectrum is not my speciality so a brilliant psych, Rose Price, spent hours coaching me on what Roger's thoughts and behaviours, loves and fears might be. Her words to me were 'Look after him, won't you?' By the time I'd written the book I'd become very attached to Roger.
Me too! Who was the hardest character to write?  
Alex was harder to write than Laura because want to do justice to the profound issues faced by survivors of abuse.
In this book you have two age groups (teenage and middle aged) involved in different kinds of dysfunctional relationships. The obsession Alex has with her teacher shows grooming behaviour and the response – are we too trusting in society? Too afraid to ask questions?
On that note -yes. I believe we are too afraid to ask the dark questions. Even as a social worker, a tiny nub inside me hoped the children I interviewed did not disclose abuse because it's much more comfortable to believe bad things are not happening to them. And yes, women in general would do well to feel more okay about saying 'No. Enough!'.
Then in the relationship between Laura and Simon, we see Laura finding her independence after being left by her husband. This is disrupted when he decides to return! Do you think women have to learn how to make their needs important?
Alex and Laura both harboured symptoms of 'good girl' syndrome.  You know. . . that female thing some of us do by relying on the approval and reassurance of others rather than finding it within ourselves. Alex had the perfect role model in Cynthia, her mother, who sacrificed her own sense of self-worth for financial security. So of course, when Greg told Cynthia how bad she was, she instantly believed him. And Alex learned to react the same way. . .  to the bullies at school, to her boss at work, to the dastardly teacher Clive Fuller whose positive attention enabled Alex to finally see herself as lovable and worthwhile.
Even the tough-assed cop Laura, had 'good girl' tendencies when she struggled against reason to keep her flailing marriage alive, telling her 'good girl' self that maintaining a healthy marriage was her responsibility despite her partner's refusal to contribute in any meaningful way.
Both this novel and your previous one were set on the Fleurieu Peninsula. What is it about Fleurieu that keeps drawing you back?
Ah ha! And my third is set on the Fleurieu as well. That's because it is precisely the sort of place I like to be. Water that sparkles and proudly displays her bottom. Squeaky sand. Kick arse restaurants with only the best of local produce, including wines that don't cost an arm and leg. Rolling hills of cattle speckled pasture, vineyards, olive groves and almond orchards stretching as far as the eye can see . . .all available within minutes of each other and less than an hour from the CBD. We did the best thing we've ever done years ago when we scrimped and scraped to buy a tiny fibro on the beach where we now spend much of our time. Who wouldn't be inspired to write a book?
I need to become your neighbour right now! WOW. Can you tell us about what you're working on now?
My third novel also has a coastal setting inspired by the Fleurieu and is a lovely story about a mother's love. My agent, Sheila Drummond is currently working her magic so we will hopefully have publishing news about that soon. Meanwhile, I'm researching and planning my fourth novel. There are lovely surprises in store. More news on both soon. And thanks for the interview!
About the Book
Set on the magical coast of the Fleurieu Peninsula and inspired by true events, Things We Cannot See is Dianne Maguire's second domestic suspense novel – a compelling story of children and families, love and betrayal. Laura Nesci has found her forever partner – until he leaves her for no apparent reason. It is only in the wake of a family tragedy and the unearthing of her husband's secret life that things fall into place, including Laura's burgeoning attraction for local artist Flynn. Fighting against the temptation of another possibly disastrous relationship, Laura channels her energies into her work as a victim support officer with the police. Fifteen-year-old Alex is a girl with secrets. Her best friend Maddi believes it's wrong, but Alex knows that what she has with their science teacher is special. When Alex is attacked, Maddi and Laura become locked in a silent battle of wills: Laura suspects that Maddi is keeping secrets for her friend, and Maddi must decide whether to speak up or remain silent. But the final telling of Alex's deepest secret is met with shock and disbelief from everyone, including Laura, who thinks she has seen it all – until now.
Available for purchase:
https://www.harpercollins.com/9781460708156/things-we-cannot-see