Review: Beautiful Messy Love by Tess Woods
July 20, 2017 | Beautiful Messy Love by Tess Woods is published by Harper Collins. RRP$29.99, available July 24th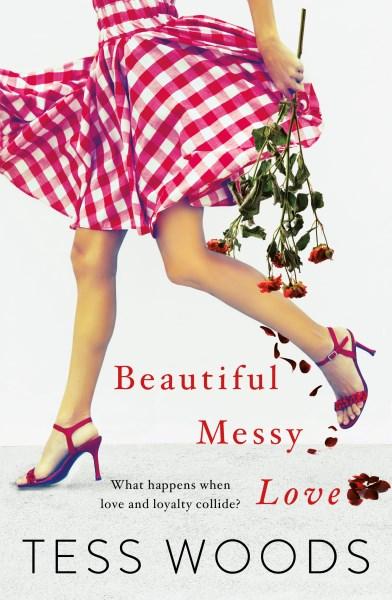 BEAUTIFUL MESSY LOVE is the second novel by award winning Perth based author, Tess Woods. You can read my review of her debut novel, LOVE AT FIRST FLIGHT here.
Lily is a bit of a mess, struggling with her medical studies, mostly because she hasn't worked out how she fits into the world of doctors and hospitals. She's moping around with letters from Ben (loser), over analysing and obsessing when she meets mysterious Toby in the crowded hospital cafeteria. Toby is dealing with challenges of his own, and their meet-cute is less than ideal, but soon after, they enter an affair that's passionate and ethically problematic, an escape from real life for them both that is addictive and intense.
As chance would have it, Anwar is also in the cafeteria on this day and provides some outside perspective on the meeting of the two in her late night diary musings to her dead twin sister. She's instantly likeable and admirable with a heart-breaking tragedy that has shaken her family. This has resulted in their refugee status, and the event, an always present memory, both drives Anwar and pulls at her soul.
At work later that day, Anwar meets Nick. He's a famous, bad boy footballer (AFL); the café is owned by his friend Gianni. Nick is instantly attracted to the exotic and intelligent woman and to his intense relief, she has no idea who he is and is far too busy studying to become a lawyer, working her many jobs and caring for her mother and young Ricky, who is battling cancer.
Undeterred, he pursues her, attracted to her forthright manner and honesty like a bee is to honey. Their obvious cultural clash only intensifies his determination and opens his eyes. For the first time in his life he's inspired to stand up for what he believes in, risking everything in the process.
There is so much to love in this novel. Characterisation is a strength, particularly Anwar and her supporting family, and Nick with his footballer lifestyle, who we see become a man. Tess is a brave writer of contemporary issues and unafraid to tackle difficult subjects and situations, while also being bold in her writing of sex and relationships. It's a difficult thing to get the passion, romance and sexual elements in the right balance and she does it with aplomb.
I had serious CPR issues (you can apply the traditional meaning of CPR here or use my "Can't Pump Right" version). Don't think you aren't going to laugh, though, the opening pages will take care of that, you may never look at Lamb Korma or a pappadum the same way again and there was one scene where Tante Rosa said something that had me shouting OMG NO!…
So be warned! Clear the day if you're going to start this one and be prepared to be a little breathless. Tess Woods is about to grab your heart and squeeze it until you've read the last page.
ABOUT TESS
Tess Woods is an award winning, Perth based physiotherapist whose debut novel, LOVE AT FIRST FLIGHT, was the first digital acquisition to be released as a paperback and won Book of the Year in the AusRom Today Reader's Choice Award. BEAUTIFUL MESSY LOVE, draws on her Egyptian Heritage, cross cultural marriage and insider knowledge of professional football learnt from her day job.
Tess loves connecting with her readers on Facebook and you can also contact her at tess@tesswoods.com.au