Review: First We Make the Beast Beautiful by Sarah Wilson
February 5, 2019 | First We Make the Beast Beautiful by Sarah Wilson is published by Pan McMillan. RRP$34.99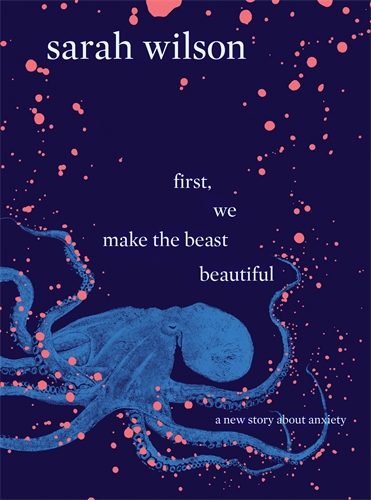 I was really drawn to this book, FIRST WE MAKE THE BEAST BEAUTIFUL for the title and the beautiful cover. It's the idea that we can change our perspective and alter the way we approach and manage a situation. What if the beast we wrangle could be understood and seen a different way? How would that change our approach to anxiety, or other onstacles we face in life?
I read non fiction and biography all the time, but reading this book was not easy. At times it read like a self-help and at others it was more memoir. Occasionally there were times when scientific research was discussed. There were moments that could be triggering if a reader is feeling vulnerable, it is not a book for those in a high anxiety state looking for how-to's, is vague on the integration of medication, and is also potentially triggering to those with eating disorders.
If I think about this book as a memoir, I feel it works better, particularly in relation to the triggering elements mentioned above. Sarah has had a very interesting life and is often quite open sharing her experiences. She is an open advocate of the anti-sugar movement and shares her experiences in this area as well.
I definitely believe in the concept of turning around the viewpoint of whatever beast it is you are facing in order to control and to conquer. If we can't shift perspective when we are trying to change and things aren't working, then how can we adapt and develop new strategies to bring to our battles?
This is my ultimate take away from this book. Be curious, be determined, be open to change and trying new approaches. But please work in conjunction with your health professionals.
ABOUT SARAH
Sarah Wilson is a New York Times bestselling author and entrepreneur. Her career as a journalist spanned 20 years, across television, radio, magazines, newspapers and online. She's the former editor of Cosmopolitan magazine and was the host of the first series of MasterChef Australia, the highest-rating show in Australian history. Sarah is the author of the international bestsellers I Quit Sugar, I Quit Sugar For Life and Simplicious and is director and founder of IQuitSugar.com. Her 8-Week Program has seen more than 1.2 million people quit sugar worldwide.
Sarah blogs on philosophy, anxiety, minimalism, toxin-free living and anti-consumerism at sarahwilson.com, lives in Sydney, rides a bike everywhere, is a compulsive hiker and is eternally curious.