Review: LaRose by Louise Erdrich
April 23, 2017 | LaRose was nominated for the 2016 National Book Critics Circle Award and the 2016 PEN/Faulkner.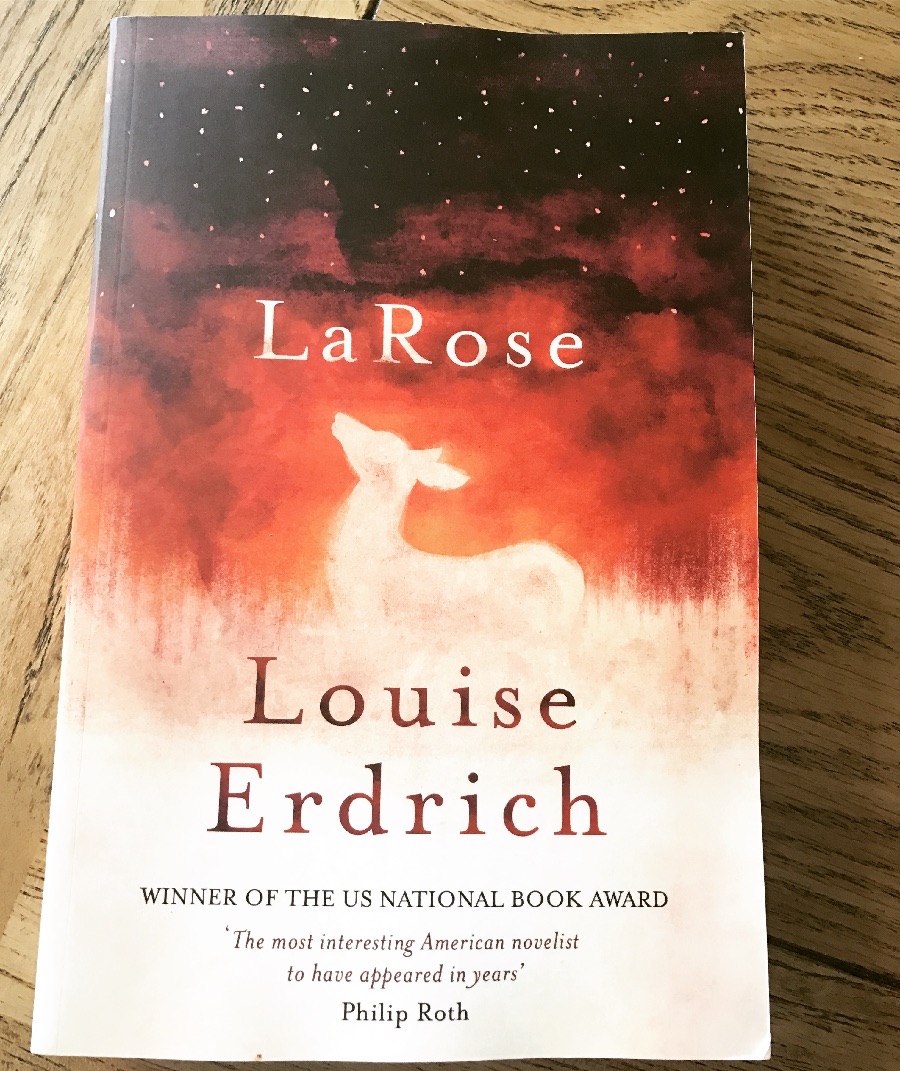 Voluntarily give up your son to the victim's family as atonement for accidentally killing their son…This is the compelling beginning to LaRose, by Louise Erdrich.
I don't think I would have crossed paths with this book unless I had read and enjoyed Commonwealth, by Anne Patchett. (You can read my review of Commonwealth here). LaRose was one of those 'if you liked' recommendations on Goodreads.
Challenging? Yes.
Emotional? Very.
Intriguing? Absolutely.
This is the story of Landreaux Iron, who goes out hunting a stag and accidentally kills the son of his neighbours, Peter and Nola Ravich. Both families are understandably broken by this event and try to come to terms with life after Dusty's death.
After a session in the sweat lodge, Landreaux and his wife Emmaline realise they must follow an ancient tradition and give their son, LaRose to the Ravich's as atonement for the loss of their son, Dusty. This moment is crucial to understanding the importance of tradition, the strength of guilt and need for atonement, and the power in the name LaRose. If you don't immerse yourself, if you fight this from an outsider view point, you will miss much of the subtlety and challenging beauty of this novel.
The story breaks into the POV of many characters as we follow them in their everyday life after LaRose is walked to the Ravich's front door and handed over. Landreaux must survive his guilt without falling off the wagon. Emmaline must navigate a relationship with her stepsister (and always prickly) Nola, while grieving for the loss of her son, LaRose, and Dusty (his playmate) and managing Landreaux and his guilt. The Iron children must adapt to life without their little brother. Maggie, the daughter of Peter and Nola, must control her grief without inflicting her anger with everyone on LaRose. And the namesake of this novel, LaRose has the burden of healing on his shoulders, though this is tempered by spiritual maturity that comes from his mystical past. Flashbacks unveilling the origin story of the first LaRose were particularly enjoyable.
It seems only Peter realises this burden and cost to LaRose. He instigates visitation with the Iron family, but he cannot bring himself to end the arrangement, because LaRose is the only thing holding his wife, Nola, together.
There are touches of magical realism in this novel, a deep spirituality, and a refreshing pair of intelligent teenage girls in the Iron household who take Maggie under their wings as she starts to go off the rails. It is the story of family, extended family and community intermingled. It is about living by your values, honouring traditions. How events shape us as people. It is generational. It races toward a tense climax that is excellently written, that set my mind racing. It is a wonderful book.
Criticism of this book has been primarily the indignation that any parent could give up a child in modern day society. This is a narrow view to the kind of challenges to thinking this book throws out. One of the joys of literature is the ability to live inside another life for a time and to hopefully come away (at least) little changed because of the time spent inside the words. To live a vicarious life without the risk but all the emotion. This book demands you ride in the current, to let it wash you about, brush you against rocks and other submerged things and eventually tumble you out, a little breathless, on a pebbled bank a little further downstream.
Like Commonwealth, this book is at times disturbing in its portrayal of dysfunction within family and community, of how the impact of events both big and small (depending on perception), ripple out into the bigger pool of society. Do not read it expecting flash and glitz, this is a slow burn, layered kind of book and a fantastic read.
ABOUT LOUISE
Karen Louise Erdrich is a American author of novels, poetry, and children's books. Her father is German American and mother is half Ojibwe and half French American. She is an enrolled member of the Anishinaabe nation (also known as Chippewa). She is widely acclaimed as one of the most significant Native writers of the second wave of what critic Kenneth Lincoln has called the Native American Renaissance.
She is the author of four previous bestselling andaward-winning novels, including Love Medicine; The Beet Queen; Tracks; and The Bingo Palace and has written two collections of poetry, Jacklight, and Baptism of Desire. Her fiction has been honored by the National Book Critics Circle (1984) and The Los Angeles Times(1985), and has been translated into fourteen languages.
Several of her short stories have been selected for O. Henry awards and for inclusion in the annual Best American Short Story anthologies. She lives in Minnesota with her children, who help her run a small independent bookstore called The Birchbark.