Review: Love and Other Battles by Tess Woods
June 16, 2019 | Love and Other Battles in published by Harper Collins. Available 17 June RRP $32.99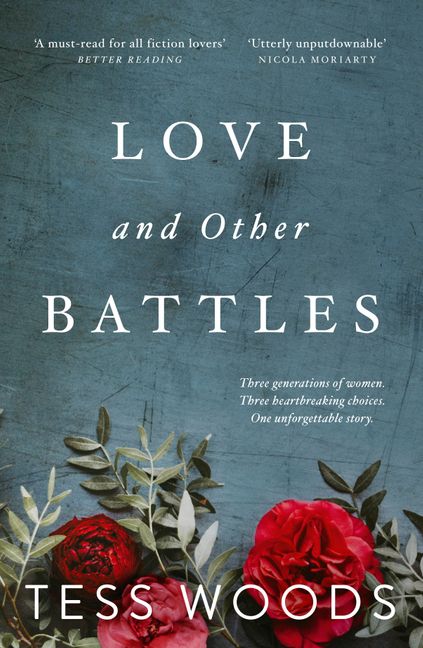 Earlier this week I'd been lucky enough to receive a copy of Tess Woods' new novel LOVE AND OTHER BATTLES in the mail. If you've never read one of her books ( LOVE AT FIRST FLIGHT,  BEAUTIFUL MESSY LOVE) you are missing out, they're fabulous, and you wouldn't appreciate how much restraint it took to read only the first few pages and put the book down to go to the day job. To manage my impulse to drop everything and read, I made a date with myself for Sunday morning, and passed by the book every day admiring the striking cover.
Hello, Sunday; there are very few things I like more than a rainy Sunday, a new book, warm croissant and good cup of coffee. Throw in a hot bath with no one knocking on the door needing anything, and it's pretty much the perfect day.
LOVE AND OTHER BATTLES is a generational story about three women; Jess, Jamie and CJ. Their stories are connected by love and blood, by time and secrets. Jess is tending an ailing veteran husband, Jamie has kept a secret that is about to reach its expiry date, and CJ is a teenager full of questions that need answering. The characters are multifaceted, their lives are complicated and imbued with a humanness that invites connection, they draw you in. That in a nutshell, is how I lost Sunday morning.
The novel touches on the Vietnam war, social media, bullying, self-harm, domestic violence and terminal illness.
In LOVE AND OTHER BATTLES, Tess writes unflinchingly about the mistakes people make without being callous or sensational and with a humanity that lifts her characters from ink on a page and fills her stories with living warmth. It is a trademark alchemy in all of her books. Clear a day, buy the book!
You can order your copy from Booktopia and any good bookstore. Use the link below to take you to a fab interview with Tess and links to purchase.
ABOUT TESS
Tess Woods lives in Perth, Australia, with one husband, two children, one dog and a cat who rules over them all. Her debut novel, Love at First Flight, received acclaim from readers worldwide and won Book of the Year in the AusRom Today Reader's Choice Award. 
Her second novel, Beautiful Messy Love, was a 2017 Better Reading Top 100 pick.
When she isn't working or being a personal assistant to her kids, Tess enjoys reading and grannyish pleasures like knitting, baking, drinking tea and tending to the veggie patch. She's also moderately obsessed with the TV series Nashville and Buzzfeed quizzes.
Tess loves connecting with her readers on 
Facebook: @Tesswoods.harpercollins and 
Instagram: @tesswoods_author
Many thanks to Harper Collins for the review copy.