Review: THE DESERT NURSE by Pamela Hart
July 26, 2018 | THE DESERT NURSE by Pamela Hart is published by Hachette. RRPTrade $29.99, ebook$9.99, audio $44.99. Available now.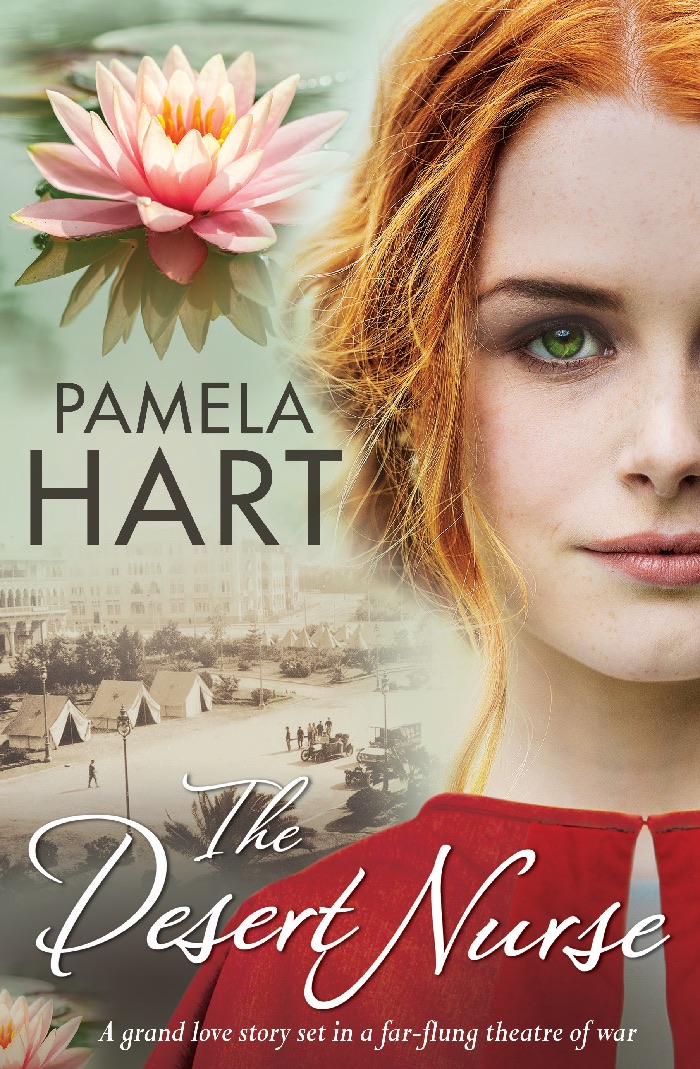 THE DESERT NURSE is an epic tale set in wartime Egypt. Readers of Hart's previous three wartime historical novels will really enjoy the links between the books. (The Soldier's Wife, The War Bride, A Letter From Italy) Don't feel you have to read those first, though. This book will stand on its own.
This is the story of Evelyn Northey, a young woman who desperately wants to become a doctor in a time when women become nurses. Evelyn's father is fundamentally against her plan to become a doctor and witholds her inheritance to prevent her attending University, even though she is 21. He will not release her inheritance until she is 30 or married.
When World War 1 breaks out Evelyn enlists, desperate to be free from the suffocating home environment created by her father. She isn't so naïve to think it will be easy, having training and experience as a nurse, but sees it rather as a way she can be independent, gain more experience and do some good while waiting for her inheritance.
Evelyn is soon bound for Egypt where she meets Dr. William Brent, the doctor who did her enlistment medical, but could not enlist in the army himself because of his polio injuries. It is here she also meets Dr. Bennet, the first female captain in the British Army and is inspired by the strong and capable woman.
As the book travels through the war years the romance that develops between William and Evelyn faces triumphs and challenges. Both of them are fiercely independent and have strong core beliefs about themselves and what is acceptable. Their relationship is beautifully handled.
Egypt is such an exotic location, full of mysteries and sorrow, capable of such splendour and also a scene of heartache and human tragedy. The plight of the nurses, who were so resilient and determined despite the times in which they lived, is a story that is wonderfully told.
So often when reading, I'm reminded of how easy it is to forget history that is not the distant past. To take for granted the hard wins that women, like Evelyn and Dr. Bennet, have fought for over time. I love that Hart writes about women who are slightly out of step with their time, but manage to still reach for their dreams and find their way on their own, supported but not controlled by wonderful male characters.
THE DESERT NURSE is a poignant reminder of battles seen, and unseen.
ABOUT HART
Pamela is an award-winning author for adults and children. She has a Doctorate of Creative Arts from the University of Technology, Sydney. Under the name Pamela Freeman she wrote the historical novel THE BLACK DRESS, which won the NSW Premier's History Prize for 2006. Pamela is also well known for her fantasy novels for adults, published by Orbit worldwide, the Castings Trilogy, and her Aurealis Award-winning novel EMBER AND ASH. Pamela lives in Sydney with her husband and their son, and teaches at the Australian Writers' Centre. THE DESERT NURSE follows her bestselling novels THE SOLDIER'S WIFE, THE WAR BRIDE and A LETTER FROM ITALY.