Review: The Girl on the Page by John Purcell
November 2, 2018 | GIRL ON THE PAGE by John Purcell is published by Harper Collins and is available now. RRP $32.99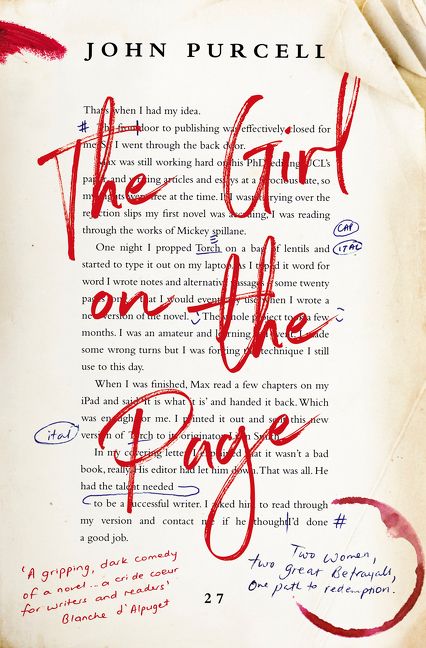 Often when I sit down to write a review of a great book, I am faced with a dilemma; how do I capture the essence of this fabulous book and do the book justice, in just a few words. I mean, this is a novel after all, and those thousands of words have built upon each other. I don't have that space in a blog post; I do my best.
This is the first novel John Purcell has written under his own name. He has previously published a bestselling series of erotic novels The Secret Lives of Emma, under the pseudonym Natasha Walker. There's plenty of raunch in this book (be warned). John is also a big part of Booktopia.
GIRL ON THE PAGE is the kind of novel that grabs you by the collar and doesn't let go. Amy is a smart, sassy and independent woman and requires no validation from anyone. Malcom and Helen are husband and wife writers who are well-known, respected, awarded for their work. Helen's latest manuscript is late and her publisher is threatening to go legal. Enter Amy, fixer, workaholic and editor with a reputation for creating bestsellers. Under protest she is assigned Helen's book. The intersection of their lives will change them all forever.
Much has been made of the ties to the book industry, the political intrigues and dramas, fractious relationships and effects of takeovers. To hold this novel in that box would be a disservice to the story. The grit in this novel is seeing below the surface to what motivates us, how we place value on ourselves and how we cope when our expectations don't match the dream.
I really enjoyed this book – it's a one sitting, don't talk to me I'm reading, family get your own dinner kind of book.
I also listened to a fabulous podcast interview with John on So You Want to be a Writer with Valerie Koo and Alison Tait (episode 255). Well worth listening to.
Go out and get it! NOW
ABOUT JOHN
While still in his twenties, John Purcell opened a second-hand bookshop – imaginatively called 'John's Bookshop' – in which he sat for ten years reading, ranting and writing. Since then he has written (under a pseudonym) a series of successful novels, interviewed hundreds of writers about their work, appeared at literary' festivals and on TV and been featured in prominent newspapers and magazines. He lives in Sydney with his wife, two children, three dogs, five cats, unnumbered gold fish and his overlarge book collection.