Review: Zeroes by Scott Westerfeld, Margo Lanagan and Deborah Biancotti
November 10, 2015 | RRP $19.99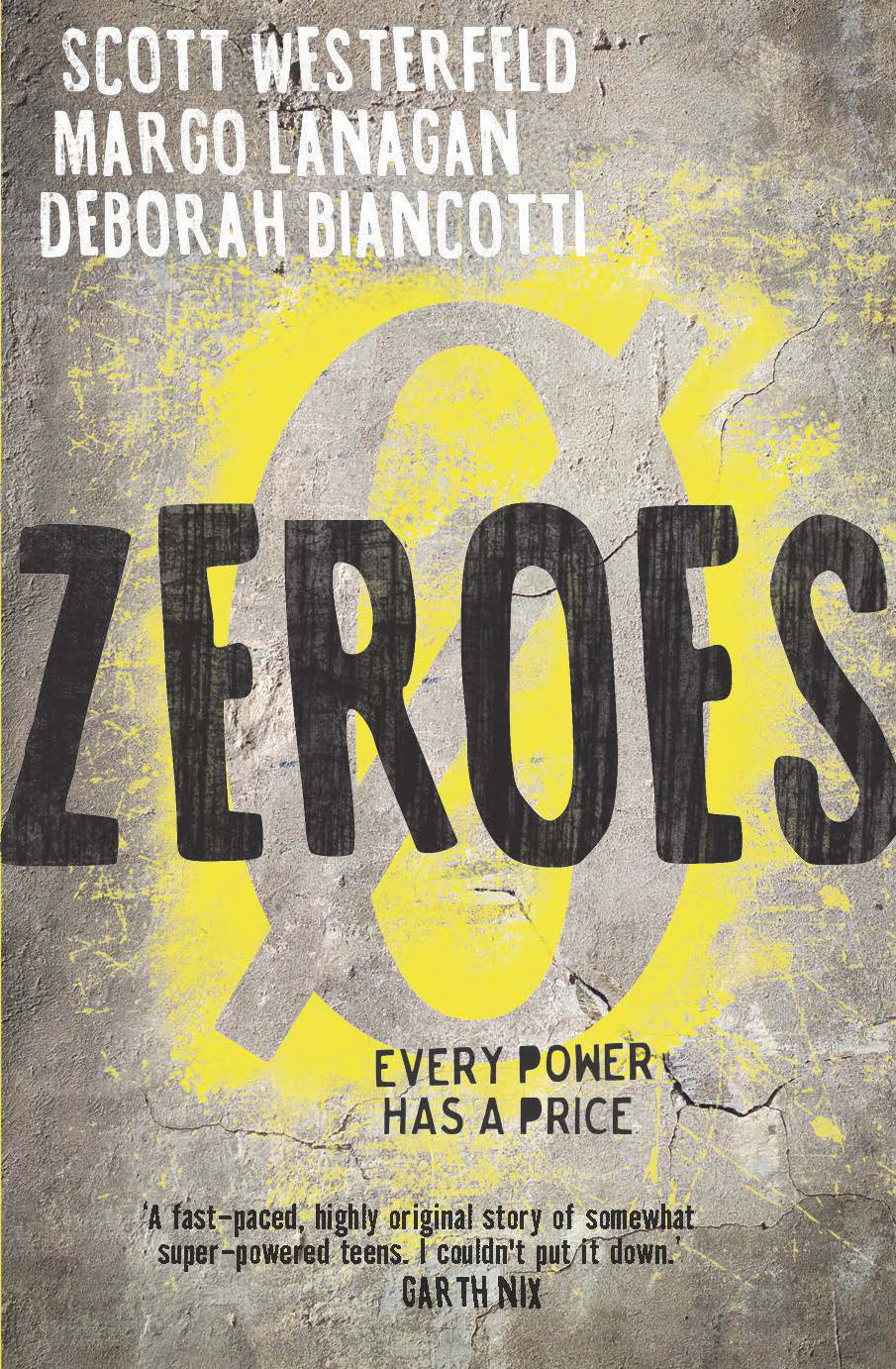 Prepare yourself. This book is a non-stop, action packed and wonderfully written novel by three writers with serious chops. Westerfeld is the award winning, #1 New York Times bestselling author of the Uglies and Leviathan trilogies (my son loved these); Lanagan has won four world fantasy awards (Tender Morsels one of my favourite books); Biancotti has published 2 short story collections and been shortlisted for the Aurealis award.
Zeroes is the story of six teenagers, each with a unique and unconventional power. As far as we know, they are also mortal, which adds to the dramatic tension. No run of the mill, Man of Steel here. SCAM has a second voice that knows things that he doesn't. FLICKER is blind but can hop into the vision of other people. CRASH is sensitive to electrical technology and can destroy it. ANONYMOUS can fade into a crowd but is also hard to remember. BELLWETHER can bend people to his will and MOB links people together through emotion.
When Scam finds himself in serious trouble because of the voice, he needs the rest of the Zeroes to help him out. But there's a problem. The voice offended them all last Summer and they all hate him. Each is unwillingly drawn back to the group and what follows is a fast paced, fun, high action crime thriller.
All of the characters are strong and have their flaws and strengths. The age of the Zeroes and the powers they have provides an interesting mix of adolescent issues, social challenges and conflict. My favourite character was Anonymous, so forgettable, even to his own family, still living to his own high moral code despite his circumstance and with temptation everywhere, ripe for the taking. A lonely life.
It was actually impossible to put down in the second half, not even for necessities like cooking, and how much did I hate the drive to School pick up (in traffic eating away my reading time) that day! I'm so glad it is the first book in a series and can't wait for the next one.
In short…totally entertaining. Highly recommended. Just a fantastic book. Would make a great Christmas gift.
All three authors live in Sydney, where they are part of overlapping communities of writers of genre and young adult fiction. They meet weekly at a pub to keep the Zeroes series on track and squabble about characters' motivations.