Bravo, Leigh Hobbs! You're my hero forever.
November 16, 2016 | CBCA Lady Cutler Dinner, 2016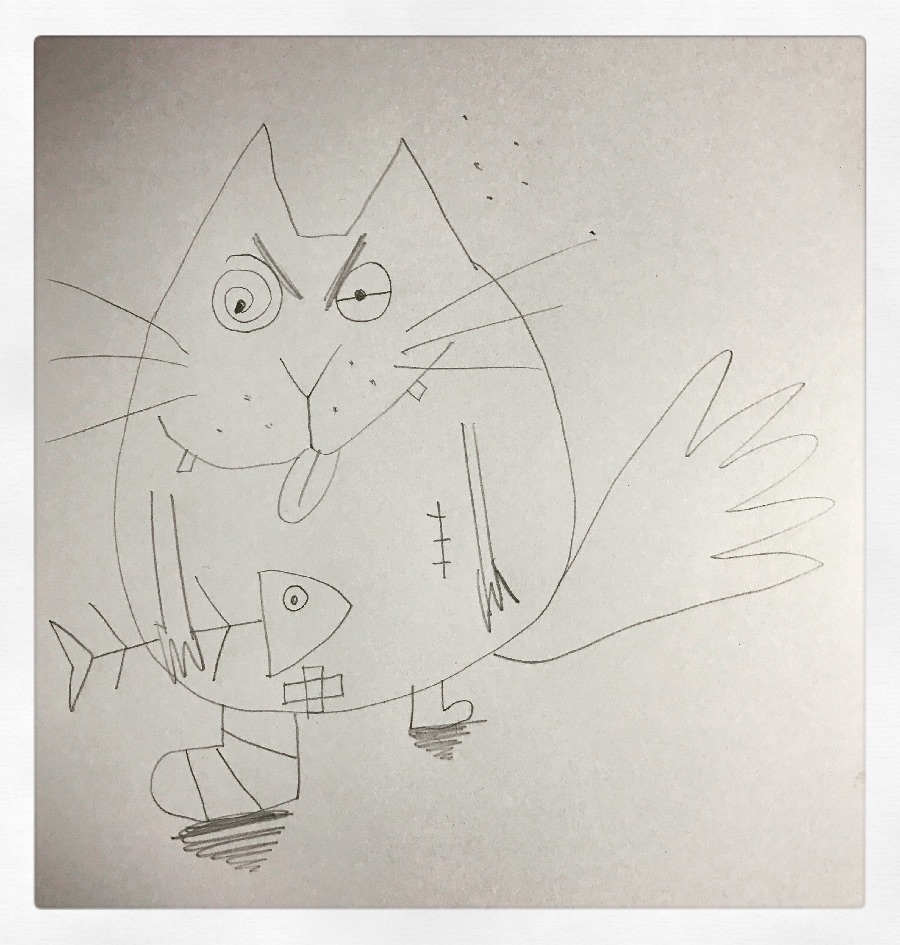 Last night I attended The Lady Cutler Dinner at The Castlereagh Boutique Hotel in Sydney. I was shortlisted for an award which I didn't win, but I was fine with that, because the guest speaker was Children's Laureate, Leigh Hobbs, who at 63 radiates youth and joy. His speech was wonderful, engaging and funny, and he is a charismatic and humble person. He talked about his influences; how much he loved London, his deep love of architecture and history, and about his times as a teacher and how this influenced his books (much mention here of Horrible Harriet). He would have been an amazing teacher, and a little further down I will explain why.
Old Tom has been a favourite in this household forever. Leigh explained that kids who love Old Tom are usually connecting with the loving relationship between Old Tom and his mother, especially boys. This was an emotional moment for me, having two boys who love the books. Mr Chicken is hilariously funny to all of us her in the Sargent household. Plus, Mr Chicken is a jetsetter and in this family we all love to travel. It was fabulous to see the architecture come to life as part of Mr Chicken's adventures.
Leigh was once asked by a schoolchild why Old Tom was a different size on each page. He admitted to us he had no idea why and threw the question open to the audience in hopes of an answer. Another child proudly explained that when Old Tom is naughty or sad he is small. When he is happy and feels good he is larger. Leigh explained that he went back and checked his books, and found it to be true. This amazed him because it is something he does innately and is surely why he is one of the most loved children's storytellers around. (By children, not always adults!)
As an extra treat, he was going to give us a lesson in how to draw Old Tom. We would be fine, he assured us, it was the same activity he did when he visited schools. He showed us some pictures of school children all over the country and the world, holding their Old Tom picture up over their face. He explained that he always told the children that everyone's drawing will look like Old Tom if they follow his instructions, but it will also look a bit different, because they are different.
You can see my drawing as part of this post.
Leigh explained that he liked to call out 8-10 kids to show their drawings. One day he chose a group of children and when he chose the last boy, the teacher nearly fainted and waved her hands to try and dissuade him. The boy got up and his picture was shown last. All the other children had shown their drawings on the projector, and the crowd had clapped and cheered them. When Leigh got to this boy and looked at his drawing, it was a mess. It was scribble all over the place. He knew that if he put it up, the kids might laugh and joke and this would crush the boy. Then he had a thought. He told the audience, 'Archie has drawn Old Tom, but he's drawn how Old Tom is feeling.' He put up the picture and everyone clapped and cheered. The boy was happy and sat back down.
A couple of days later a woman grasped his arm before a speech. She told him, her husband was a truck driver, and said Leigh had had her son up on stage. Her son, Archie, was on the extreme end of the autism spectrum, and every day at school was torture, for him, and for them and he never experienced success. Archie had come home that night and told his parents all about how he was cheered at school for his drawing. He then demonstrated what he drew. His father got up part way through and went to the lounge. The woman followed him to find out why and found her husband in tears.
That is the IMPACT of a great teacher.
And we need more like him.
Bravo, Leigh Hobbs! You're my hero forever.
ABOUT LEIGH
Leigh Hobbs is an artist and author best known for his children's book characters Old Tom, Horrible Harriet, Mr Chicken and Mr Badger. In 2002, Horrible Harriet was shortlisted for the Children's Book Council of Australia Picture Book of the Year Awards, as was his book Old Tom's Holiday in 2003. He was shortlisted again in 2010 for his picture book Mr Chicken Goes to Paris. A highly successful animated TV series, based on Leigh's Old Tom series of books has been screened in Australia and Europe.
As well as being an author and illustrator Leigh works as an artist in a wide range of mediums. He has designed the colour scheme for the entrance to Melbourne's Luna Park and the creature that sits atop a ride inside the park called the 'spider.' A Flinders Street Station tea-pot he made is in the National Gallery of Victoria, and two caricature sculptures he created for Sydney's Luna Park in the early 1970s are at The Powerhouse Museum in Sydney.