Guest Post: E.R. Murray on Bullying and Hope in CARAMEL HEARTS
August 1, 2016 | Caramel Hearts by E.R. Murray is published by Alma Books. RRP $19.99, available now.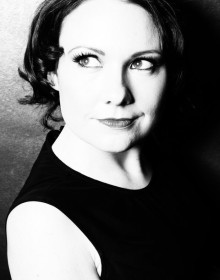 Last week I posted a review of the YA novel, CARAMEL HEARTS by E. R. Murray. Today I warmly welcome Elizabeth to LOVEthatBOOK to guest post about one of the themes in her novel  – bullying.
As a teacher it's something I've unfortunately seen first hand, and as a kid, it was something I experienced myself, so this post from E. R. Murray is a brilliant insight into the thinking behind her characters and how they behave.
(If you missed my review of CARAMEL HEARTS, you can find it here.)
---
About Caramel Hearts: Liv Bloom's life is even more complicated than that of your average fourteen-year-old: her father walked out on the family when she was young, her mother is in a recovery centre for alcoholics, and her older sister is struggling to step into Mum's shoes. Structured around real cake recipes, Caramel Hearts is a coming-of-age novel about love, disappointment and hope, and discovering the true value of friends and family, no matter how dysfunctional they are.
I wanted Caramel Hearts to resonate with anyone who has experienced any of the issues that Liv and her friends/family go through – such as the effects of addiction on a family unit, trying to navigate the world without money, friendship shifts and bullying. I decided to touch upon bullying because it is a very real issue, particularly during teenage years, with far-reaching consequences for the victims. And not only are the victims affected; the bystanders and loved ones who don't know how to deal with or stop the bullying suffer repercussions too.
The teenage years are fraught with emotion and anxiety, and although it is during these years that we are forming our opinions and personalities, it's a really difficult time to navigate. Although as teens we feel adult and ready for responsibilities, people aren't quite ready to listen to us – we don't yet have a voice – and this can lead to all kinds of frustrations.
Bullying is particularly fraught; how exactly do you get a bully off your back? Or off someone else's? Do you fight back or ignore? Tell someone in authority or pretend it's not happening? Taking any form of action, or even inaction, may make matters worse – it's a truly terrifying situation and the overriding feeling is one of helplessness.
Initially, the main character in Caramel Hearts, Liv, looks on as her friend Sarah is the target of a bully's attentions. We see Liv trying to deal with this and help in the best way she can, with little success. But when Liv becomes the victim, we see a shift in her understanding of what bullying means, of how it feels.
The bully, Maddy 'Mad Dog' Delaney, is a nasty piece of work, but I believe that people are inherently good and no one sets out to be cruel. A variety of factors affect people's personalities such as poverty, life experiences, medical conditions and trauma. People are complex. People are not good or bad. They're a mixture of all things, multi-faceted and changeable. And so, it was important to me to show Mad Dog in different lights.
Just like Liv, Maddy has a hard life and is trying to find her way in the world. I purposely give the reader a glimpse of that world – not enough to detract from Liv's story, but enough to give an idea of Maddy's troubles. And although the reader will not be able to accept Maddy's behaviour, I hope they can see where it might stem from, and perhaps feel some sympathy.
Another important aspect that was a must for Caramel Hearts was a sense of hope. Having grown up in a family affected by addiction, and attended a school fraught with bullying, I know that in these kind of situations, your only weapon is hope.
Hope allows you to see that life can be different, that challenges can be overcome, that there might be more to the world than your own enclosed situation. Hope gives you something to strive for. Whatever challenges we face, we can't forcibly alter the people around us, no matter how hard we try, but we can look at our own behaviour and make decisions to improve things – even small steps can make huge difference. Hope enables us to do this.
For Liv, hope lies in her friendships and in the handwritten cookbook that she discovers; the recipes give her something she can be good at, a focus, but also provide a connection to her mum while she tries to dry out in a recovery centre. For Maddy, it's a very different situation. Can she see a different way to be? Does she feel hope? I have my own thoughts on this but I believe writers should trust their readers – and so, I'll leave that for the reader to decide.
ABOUT E.R. MURRAY:
Elizabeth Rose Murray lives in West Cork, Ireland, where she fishes, grows her own vegetables and enjoys outdoor adventures. Her debut, The Book of Learning: Nine Lives Trilogy 1 is the Dublin UNESCO Citywide Read for 2016. Caramel Hearts is her first book for young adults. Elizabeth loves travel, and has taught creative writing in schools around the world, including Cambodia. While travelling, Elizabeth also parachuted out of an aeroplane, swam with sharks and stingrays, and ate lots of insects. You can contact Elizabeth via her website www.ermurray.com, Twitter @ERMurray, instagram and Facebook.