Review: Ache by Eliza Henry-Jones
June 28, 2017 | Ache by Eliza Henry Jones is published by Fourth Estate. Available now RRP $29.99.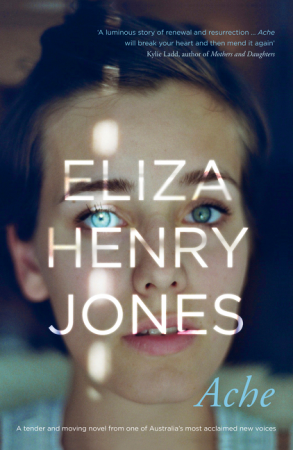 The second book from Australian author, Eliza Henry Jones, the haunting ACHE, is an exploration of grief, loss and coping mechanisms related to trauma experienced after a terrible bushfire.
A year before the opening lines, Annie's world fell apart. Her grandmother was killed during a catastrophic bushfire and she'd ridden her beloved horse Luna through the fires and down the mountain with her daughter in front of her on the saddle. Pip is left terrified by the experience and acting out behaviourally, insisting on being called Phillip, and carrying a green scarf with her everywhere she goes for security. Annie, now living in the city with her husband, can't help feeling both betrayed by and disconnected from the mountain that she has loved all her life.
After a worrying call from her beloved Uncle who still runs a vet practice on the mountain, Annie decides to go back to the mountain for an open-ended visit. On arriving she finds the town much changed by the fires, but still at the core, the same. The townsfolk she grew up with are coping in a myriad of ways. There are hostile currents and heartbreaking truths, but it remains a place full of personality and strength, a group of folk bound together through loss and resilience and all looking for a way through the constant ache of after.
This is a very well written novel. Eliza's background in psychology, grief, loss and trauma counselling is expertly used to layer this story. One of the strengths of this novel is the expertly written dialogue (a real pleasure) and the thoughtful and distinct rendering of character. Pip is a standout, and so is the fractious relationship of Annie and Susan.
This is a writer of immense talent. What a glorious book.
ABOUT ELIZA
Eliza Henry-Jones was born in Melbourne in 1990. She was a Young Writer-in-Residence at the Katharine Susannah Prichard Writers' Centre in 2012 and was a recipient of a Varuna residential fellowship for 2015. She has qualifications in English, psychology and grief, loss and trauma counselling. She is currently completing honours in creative writing – exploring bushfire trauma – and works in community services. She lives in the Dandenong Ranges with her husband and too many animals.