Review: Illuminae by Amie Kaufman and Jay Kristoff
March 1, 2016 | RRP $19.95 New York Times Bestseller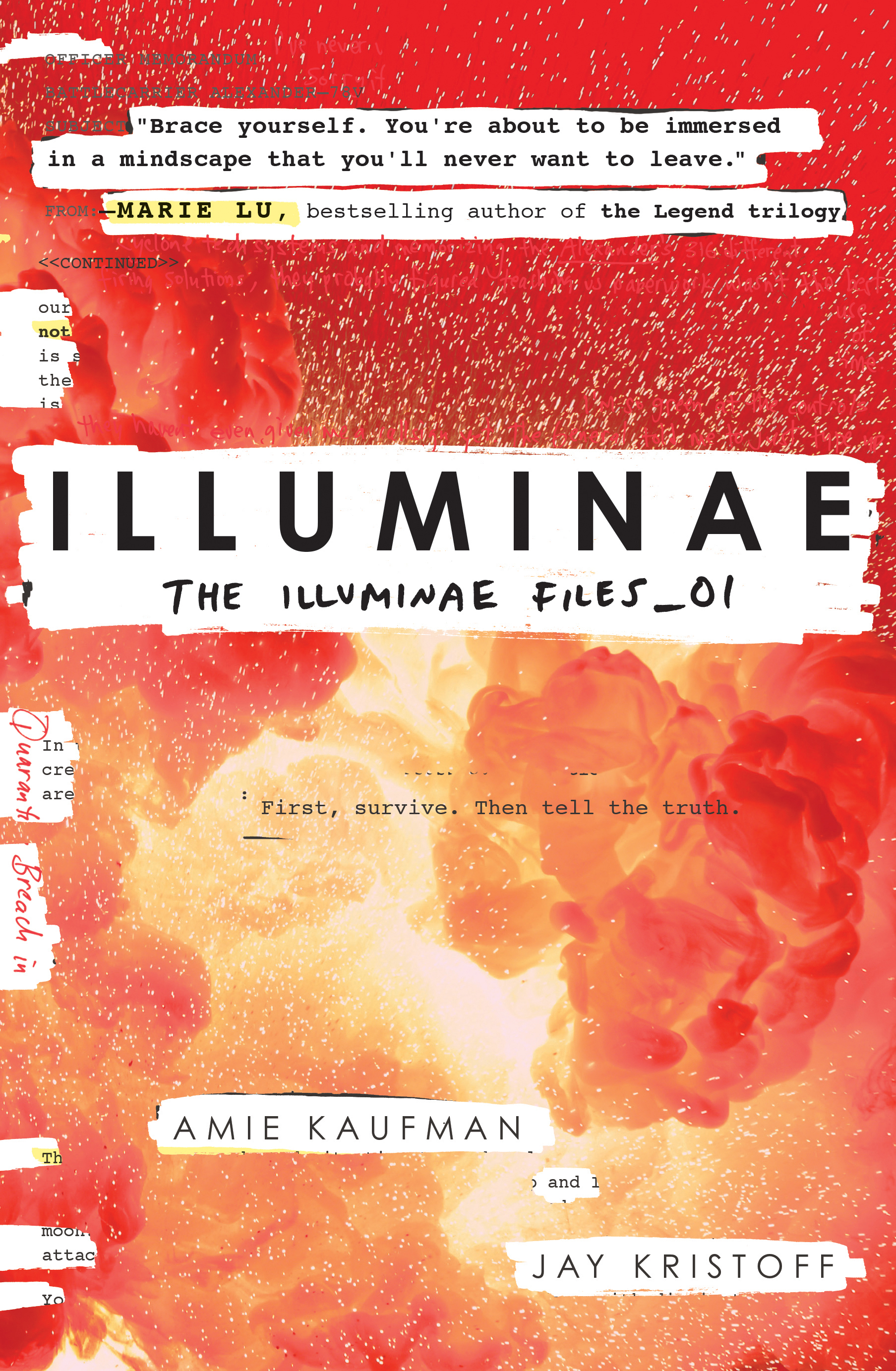 2016 began, for me, with this adrenalin fuelled novel, Illuminae by Amie Kaufman and Jay Kristoff. I read it a scant few days into the New Year while I was on holiday in wintry Europe. It takes very little prompting for me to recall my white knuckle grasp on the Kindle, a cup tea growing colder in my other hand, unwilling to stray my eyes from the page for even the brief moment it would take to ensure the cup made it to my mouth without spilling down my shirt. Page after page turned at the kitchen bench of our apartment, on the couch, on the bus, in the car to visit relatives. I was hooked. I couldn't stop reading.
Illuminae is the story  of Kady and Ezra, two teenage lovebirds who have chosen the most inopportune time to break up. The year is 2575 and the pair live on a tiny planet. Two rival corporations are at war over the planet and the rich resources it holds. One corporation decides to launch a deadly attack on the settlements.
Kady and Ezra are forced to fight their way on to an evacuating fleet and an enemy warship is in pursuit, determined to eliminate any survivors. But it soon becomes apparent that a deadly plague has broken out in one of the three surviving ships, the result of suspected bio warfare. After a series of wrenching decisions by the AI, the humans of the fleet begin to wonder if AIDAN is actually on their side. Kady, rebellious and a gifted hacker, uses her skills to search out the truth about what is happening and soon finds that she needs Ezra's help if they are to have any chance of survival.
I enjoyed the varied presentation of the story, the slow reveal in the form of a report made up of hacked documents, emails, schematics, military files, IM's, medical reports and interviews. There were moments when my heart was hammering in my chest and others when the hairs on my neck prickled and goose bumps rose on my skin. Some zombie fear moments. Apparently it is a YA novel aimed at 14-18 year olds (Wrong. I am not in this demographic by a long way – it is simply a fabulous story for fans of the genre). The dialogue in all formats is superb; spiky, funny, witty, bold and vulnerable. I was so disappointed to finish this one, but I am glad that it is the first in a trilogy. Super book!
About Amie
Amie Kaufman is the New York Times bestselling co-author of Illuminae (with Jay Kristoff) and These Broken Stars, This Shattered World, and Their Fractured Light (with Meagan Spooner.) She writes science fiction and fantasy for teens, and her favourite procrastination techniques involve chocolate, baking, sailing, excellent books and TV, plotting and executing overseas travel, and napping.
She lives in Melbourne, Australia with her husband, their rescue dog, and her considerable library. She is represented by Tracey Adams of Adams Literary.
About Jay
Jay Kristoff is the New York Times and internationally bestselling author of THE LOTUS WAR, THE ILLUMINAE FILES and THE NEVERNIGHT CHRONICLE. He is a winner of the Aurealis Award, nominee for the David Gemmell Morningstar and Legend awards, named in the Kirkus and Amazon Best Teen Books list and published in over twenty countries, most of which he has never visited. Being the holder of an arts degree, he has no education to speak of. He is 6'7 and has approximately 13030 days to live. He abides in Melbourne with his secret agent kung-fu assassin wife, and the world's laziest Jack Russell.