Review: The Love That I Have by James Moloney
June 7, 2018 | The Love That I Have by James Moloney is published by Harper Collins. RRP $27.99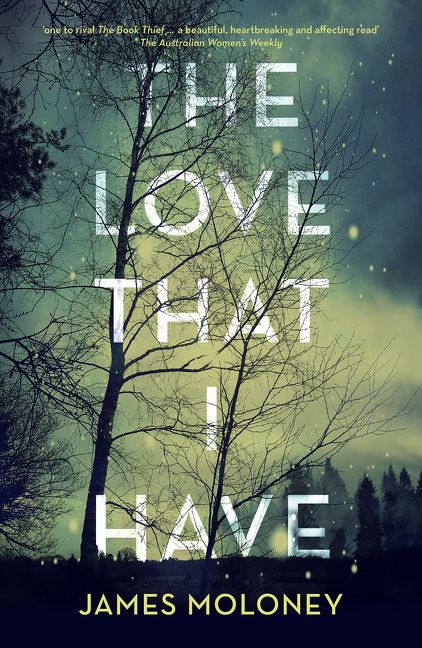 When I received book mail this week, I opened my parcel to discover a copy of THE LOVE THAT I HAVE by James Moloney inside. It's always such a thrill to receive a book, and I cracked it open in an excited rush, intending to read the first few pages and then move on to other work. But this novel had other plans for me and by midday I had finished the book and was a sobbing mess in the kitchen.
THE LOVE THAT I HAVE combines two things I particularly love in a book; a love story and correspondence. The art of writing a letter is becoming lost in our technical and gadget driven world. Writing a letter takes time, thought and concentration, the search for the right words, it gives the writer space to say exactly what is meant, to choose beautiful paper, luscious ink, a beautiful pen. Letters can also be hastily written in times of crisis or urgent need, scratched on the back of receipts or napkins, recording sense of movement and action forever. There is simply something that a letter has that an email or text can never replicate. It's the writing, the connection of personality and thought all the way from the brain to the fingers, expressed in words but also in the curve of a letter, the slant of script. A letter is as individual as the letter writer, a piece of themselves they send across oceans and mountains.
It's 1944 and 16 year old Margot Baumann takes up her sister Renate's job in the mailroom of a large local prison in Germany. Margot is shielded from the camp's brutality as the mailroom is outside prison walls and her questions of other staff are deflected or selectively answered. But Margot is a clever girl and has a heart in search of love in the world. She soon discovers the prison is actually Sachsenhausen concentration camp, and the mail that she is required to burn is from prisoners to their loved ones far away.
She's tormented by the thought that people who love these prisoners are agonising while waiting to discover they are safe, in the same way she is waiting for word from her much loved brother Walther. She can't refuse to burn the letters but she can create a small act of defiance as a compromise. In an act of daring, Margot steals some letters to read and send on from the outside world so that loved ones will receive them.
This is how she discovers Dieter Kleinschmidt's letters to Margot Lipsky, a prisoner in Auschwitz and begins a dangerous correspondence that will shatter the innocence of her youth. So much of this story is memorable, but one scene near the end of the novel (between Margot and her mother) left me bereft and brought the story full circle.
Described to me as a cross between All The Light We Cannot See and The Book Thief, THE LOVE THAT I HAVE is a tender and yet unflinching story of love and the necessity of hope in dark times. Handwritten words, those expressions of the deepest heart in moments of despair, still have that power, will continue to have that power; the dead deserve to be remembered.
ABOUT JAMES
In a career spanning three decades, James Moloney has delved fearlessly and with the deepest compassion into what it means to be human. His many novels have brought him a Victorian Premier's Prize and a Book of the Year Award from the Children's Book Council of Australia among other literary honours. Lovers of grand adventure continue to be enthralled by his Book of Lies trilogy and the Silvermay Sagas. In The Love That I Have he turns his eye on humanity's darkest chapter, searching for light and hope amid the ashes.